Lyon, a city of innovation
Choosing the Lyon metropolitan area for studying means building your professional future in dynamic surroundings. Let's have a closer look at how Lyon Metropole acts to support research, adapt education and training to company needs, and carry out innovation policies.
Lyon, a learning metropolis
Supporting scientific research
13300
research scientists in the area including 1800 internationals
1000
theses defended each year locally
The "Prix du Jeune Chercheur" (Young Researcher Prize)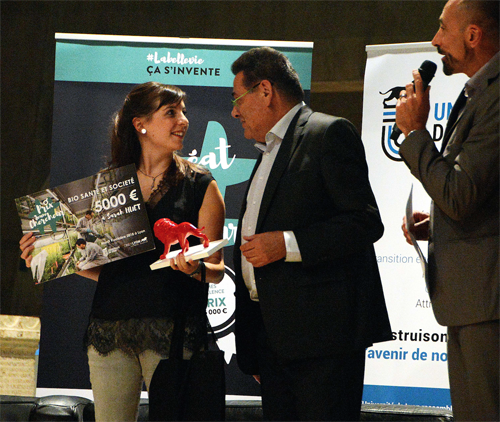 Every year, the Young Researcher Prize awards €5,000 to each of three young researchers under 35 years old. It is given by Lyon Métropole in partnership with the University of Lyon, for projects concerning bio-health and society; science and engineering; and humanities and urban living.
Contact: prixjeunechercheur(at)grandlyon.com
Research at the University of Lyon
As the second leading French scientific site, the University of Lyon uses several approaches to promote research. It welcomes international researchers through the ULYS service and supports research scientists in promoting their work through the PULSALYS innovation accelerator.
Adapting training to company needs
Lyon Métropole counts on institutes of higher education known for responding to changes in the job market with a broad selection of innovative training programs.
More students mean more talent for companies and a stronger economic dynamism
Lyon Métropole encourages training in jobs for the future, most notably in the digital sector, with over 600 different educational programs, as well as in logistics, human services and the hotel industry.
Good to know
Have you heard about the Digital Transformation University Diploma ? This innovative University of Lyon training program in the framework of the "Disrup't Campus" initiative for students and companies. Candidates must have an undergraduate degree and submit an application. This short program aims directly at the working world and proposes that students carry out a digital project with a partner company for one semester.
Promoting innovation through entrepreneurship
Lyon Metropole is France's second-leading urban area in terms of company creation, with an average of over 20,000 companies created locally per year.
Lyon supports entrepreneurship and backs project leaders in all phases of development with an offer of dedicated services. To do this, the LYVE community provides:
A network of over 300 experts to assist in company creation in the Lyon metropolitan area

Online tools and services for project leaders on the LYVE digital platform

3 entrepreneurial hubs, located in the 9th arrondissement of Lyon, Neuville-sur-Saône and Givors, that propose events, expertise and a meeting place for all project leaders.
There are also various programs to support student entrepreneurs, from first idea to final project.
Lyon "Smart City" strategy is based on various drivers for transforming the city and meeting the social, economic and environmental challenges of the future:
Open innovation methods like open data and experimentation to build new urban services incorporating user input

Collaborative hubs like Tubà and the Innovation Factory to promote the development of innovative companies

Cutting-edge technologies like artificial intelligence to promote the energy and digital transition, such as new forms of mobility, smart networks, and the industries of the future.

Support for the social and solidarity-based economy (ESS), with various programs, including Lyon French Impact, with a fund to support social innovation, backing for associations and the ESS Trophies.