Scholarships, assistance and student loans
Making ends meet every month is not so easy when you're a student. Here are several types of financial assistance that can help you out.
Scholarships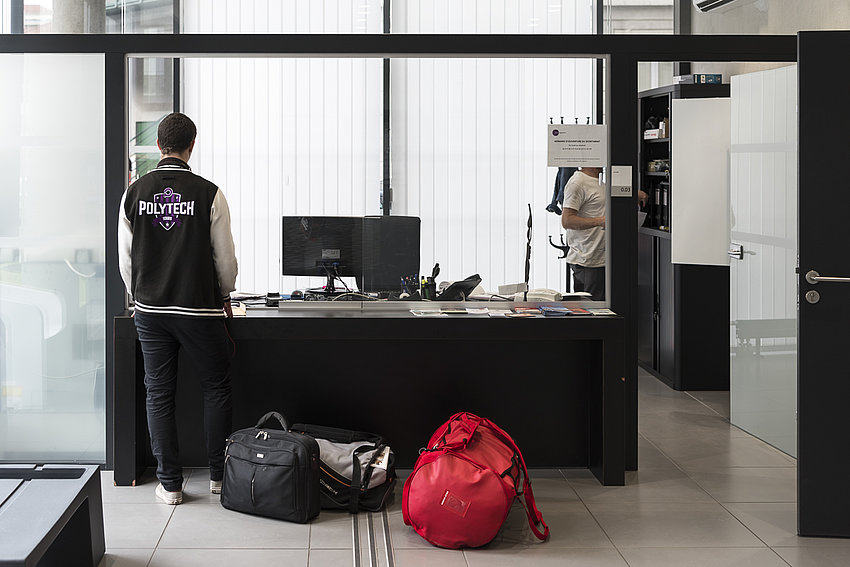 Scholarships awarded on social criteria
To receive a scholarship on social criteria, you must put in an online application (Dossier Social Etudiant, or DSE), from January to the beginning of May on the CROUS website. Students must renew their scholarship application each year. To know whether you are eligible for a scholarship, see the CROUS scholarship simulator.
After the deadline, it is sometimes possible to make a request, whatever the response from Parcoursup or your home establishment: ask CROUS for more information.
Be careful! Requests for CROUS housing are submitted at the same time as scholarship requests, so plan your request ahead of time.

Procedure to follow for applying for a scholarship:
1. Check that you meet the various scholarship criteria:
- You are under 28 years of age on September 1 of the university year;
- You follow an educational program that allows for scholarships (universities, approved schools);
- You meet the requirements concerning your parents' income (aggregate gross income on the previous year's income tax declaration), number of children in the family and distance from where you will be studying.
The resource ceilings are found here.

2. Prepare your application with your previous year's fiscal notification concerning your home income + your I.N.E. number (on your student car or baccalaureate certificate) + your bank account information. Depending on your family situation, you may be asked to supply additional documents.
3. Apply online: after you have entered your information, an email confirming your scholarship application will be sent to you. Forty-eight hours after you have applied, your file will be sent by email (as an attachment) from the CROUS office you applied to. If you change schools, your file will be automatically transmitted, so be sure to indicate the correct mailing address for your documents. After receiving the email from CROUS, you have eight days to send the requested documents.
Complete information here.

Contact:
For any questions on scholarships or housing, call the CROUS of Lyon at 04 72 80 17 70 or go to the online site.
You can also go to the CROUS building at 59 rue de La Madeleine, Lyon 7,
or to the CROUS of Lyon Scholarship Office at 25 rue Camille Roy, Lyon 7,
from Monday to Thursday : 9 am to 5 pm and on Friday: 9 am to 12 noon
Housing assistance
A number of financial aids are available for housing, most notably personalized housing assistance. On LyonCampus, you'll find all the financial assistance possibilities that you might qualify for.
Regional scholarships
Regional scholarships help you to participate in an Erasmus exchange or carry out an internship in one of the European Union countries. For more information, see the list of travel scholarships on LyonCampus!
Specific assistance
Scholastic merit-based assistance
This assistance concerns scholarship students who obtained the highest honors mention on the baccalaureate exam. Students do not need to make a specific application for this assistance. CROUS identifies the students who are eligible for this assistance. For more information, see scholastic merit-based assistance here.
Personalized assistance for the disabled
This personalized assistance is granted according to the student's particular disability and needs (human, material, etc.).
For more information, see Handicap.gouv.
For more information, visit the etudiant.gouv.fr website.
Specific emergency assistance
This fund provides personalized financial assistance to students in difficulty (for example, following a family break-up, going back to school when you're over 28, accident, etc.). Assistance may be one-time or annual, depending on how long the difficulty continues.
To receive this type of assistance, you must first request a scholarship as part of a student social file (DSE) and describe your particular situation.
More information on specific emergency assistance.
Parcoursup travel assistance
If you are a high school student and hold a high school scholarship, you may be eligible for a Parcoursup travel scholarship. You may request one-time assistance in the amount of €500 if you accept a choice of school that is outside your area's district. A "travel" button for requesting a travel scholarship will appear next to your validated choice on the Parcoursup platform.
Assistance depending on your course of studies
Assistance for healthcare and social training
Through the Auvergne Rhône-Alpes Region, you can request several scholarships for training in the healthcare and social fields. The Region finances your school fees up to two months after the start of your training. Application information is found on the Region's scholarship site.
Driver's license assistance for young apprentices
As of January 1, 2019, students with an apprenticeship contract who are registered at a driving school have a right to a €500 reimbursement of driver-training fees. To obtain this aid, you need only an apprenticeship contract and an invoice from the driving school that is dated within the previous twelve months. Find all information on the work-study portal.
Allowance to promote diversity in public service
This allowance is designed for students preparing one or more public service exams who are enrolled in an institute for preparation for general administration (IPAG), in a center for preparing for administrative service (CPAG), or in a preparatory course implemented by the schools of public service or by governmental employers. Complete information here.
Assistance for students from the French overseas provinces
The Agence de l'Outre-mer pour la Mobilité (French overseas provinces agency for travel) offers several types of financial assistance for students and professionals for travel to continental France:
- The Travel-Study Passport: pays part of an airline ticket to France for students whose area of study does not exist overseas or is overcrowded.
- The Professional Training Travel Passport: financial assistance for professional insertion in France.
- Assistance for Territorial Continuity: pays part of the price of a ticket to France for professionals.
Master's degree travel assistance
Based on social criteria, this allowance provides travel assistance for scholarship students wishing to work toward a master's degree in another region after having obtained an undergraduate degree. Complete information here.
Activity bonus
If you are a salaried student or apprentice and your monthly salary is above €932.27 net, you may be eligible for the activity bonus. Please note that payments for internships do not count as a salary. The bonus is awarded each month according to your situation and income for the previous three months for you and your household. For complete information, read about the activity bonus here.
Financing your thesis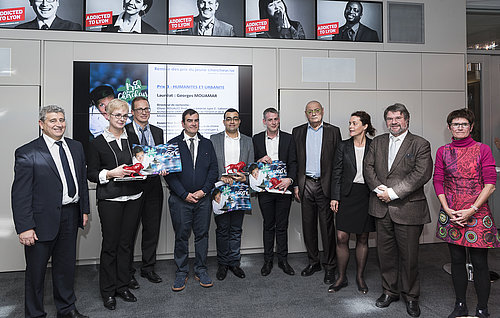 There are a number of scholarships for financing your thesis. Below is a non-exhaustive list:
Young Researcher Prize: Three prizes in the amount of 5,000 euros each are awarded each year by Lyon Métropole and the City of Lyon in three main areas of excellence: bio-health and society, sciences and engineering and humanities and urban living.

ADEME, the agency for the environment and energy, offers to co-finance a doctoral thesis by students with a master's degree in research that focuses on one of the ADEME areas.

You can also finance your thesis with the help of French research bodies or foundations like the Fondation de France with its "scholarships for the young", as well as associations that sometimes provide scholarships for theses on topics related to their activity.

There are also programs like the CIFRE agreements to promote exchange between public research laboratories and the social-economic environment.

Find out more information from the school where you are preparing your doctorate and your establishment; they will be able to orient you in your search for funding.

Doctoral contracts: The doctoral contract is designed for doctoral students who have been recruited by public establishments of higher education or research bodies. Covering three years, the contract brings all the social guarantees of an actual work contract that is compliant with civil law and sets a minimum remuneration.
Taking out a student loan
If you do not have a scholarship or sufficient assistance, you can take out a specific bank loan to finance your studies.
Government-backed student loans
Subject to the favorable agreement of a bank (Société générale, Crédit Mutuel, C.I.C., Banques Populaires, Caisses d'épargne or bpifrance), the french government may back a student loan. Reimbursement of the loan is postponed; which means that you start to reimburse it two years after the end of your studies, when you have entered professional life.
The loan is available to students who are:
- Under 28 when the loan is agreed to,
- French nationals or students from a European Union country who have resided in France for at least five years
- Enrolled in higher education: university, school, technical university, etc.
Characteristics:
- No personal guarantee or income conditions required
- No parental or third-party guarantee required (the government is the guaranteer)
- Loan for a minimum duration of two years
More information on the public service website.
Traditional loans
You can also take out a "traditional" loan from your bank. To do this, you must guarantee that you live in metropolitan France (the rate of loan reimbursement is calculated according to your income), are attending school and under the age limit (depending on the bank, student loans are often limited to students under 30).
Alway compare banks before taking out a loan using specialized comparison websites or directly in various banks. Chose your bank according to the Effective Global Annual Rate (the general rate that includes all fees) and the repayment schedule. For more information about bank loans (french version only) for students.