LyonCampus lists the areas where you can work and study throughout the year; consult the list of municipal libraries, BUs and co-working areas in Lyon Metropole.
Libraries in Lyon Metropole
Municipal libraries
The 57 libraries in Lyon Metropole offer a number of work areas with open access. It is also possible to consult books on site, free of charge. You must subscribe to other services, but they are open to all.
Consult the list of municipal libraries in Lyon Métropole (french only). You will find opening hours and services offered for each library.
If you want to have access to library services, you can sign up for the culture card (french only) or the library card (french only). This will enable you to borrow books and have internet access at a preferential rate for those under 25.
Do you prefer to work at home? With the Lyon Métropole digital library (french only) (if you have signed up for a brick-and-mortar library), you have access to online documentary resources including newspapers, magazines, online music and self-training.
University libraries
Establishments of higher education in the area have many libraries that are adapted to the requirements of students. They are open to all, and you do not need to study specifically in the university that the library is part of. However, if you want to borrow books or have access to special services, you must study in the establishment that houses the library.
Have a look at the list of all the university libraries in Lyon Metropole (french only), with their opening hours and services.
Co-working areas
Co-working areas provide you as an individual student or as a group of students with a professional work environment, even if you use it only occasionally. Certain places propose hourly student rates. Here is where you will find the co-working map for Lyon and the rest of France.
Use open innovation and collaboration areas like the art and technology creative areas, incubators and accelerators, living labs, FabLab and technological platforms.
The Lyon Métropole Maison des Étudiants (MDE) student center
Are you familiar with the Maison des Étudiants? This facility proposes a co-working area with numerous resources for student associations (rooms, material, support, etc.). This area is reserved for the development of association projects. Access is free of charge but registration is mandatory for the yearly residence of your student association.
This student living area also proposes a vast program of events that are open to everyone and organized by the associations and their partners. You'll find the schedule of these activities throughout the year on the MDE Facebook page or on the MDE event calendar.
Innovative and creative places
The Innovation Pre-Factory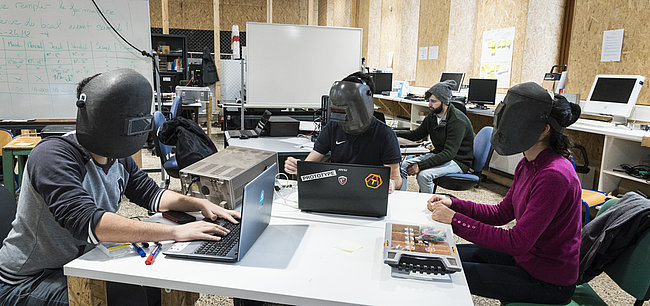 Discover the Innovation Pre-Factory, a 350-square-meter site for innovation on the campus of LyonTech-La Doua that Lyon Métropole has created to promote student creativity.
How does it work?
The Innovation Pre-Factory contains two distinct areas:
A FabLab composed of a 3D printing hub, an electronic hub and a mechanical hub for working with wood and metal that includes design and modeling software. This FabLab is managed by the Astech Association and students from INSA and Lyon 1.

A 70-square-meter creative area can be reserved from the University of Lyon Innovation Factory to organize a workshop, meeting or seminar.
The FabLab is open to all. Just join an association to be able to use FabLab equipment and materials, with a student rate of €10 for one month or €45 for a semester. This will enable you to design, create, prototype, innovate and even print in 3D (with payment of raw material consumables). For complex machines, training and team supervision are available throughout the year.
Examples of FabLab projects: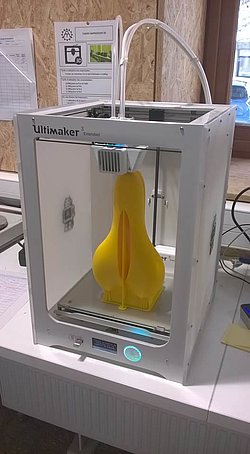 In 2022, three new interconnected sites will make up the Innovation Factory on the Lyon and Saint-Étienne campuses:
In the place of the current Pre-Factory, a 6,500 sqm area known as the I-Factory will open in a new building on the Lyon Tech-La Doua campus;

Since 2019, a Manufactory incubator has opened on the Manufacture des Tabacs campus in Lyon to connect with students from downtown higher education institutions;

A D-Factory is also planned for the Saint-Étienne campus.
These different sites will house meeting rooms and creative areas, project incubation areas, technological platforms and FabLabs.
TUBÀ
What on earth is TUBÀ?
TUBÀ, otherwise known as the Lyon Métropole Tube À Expérimentations Urbaines (tube for urban experimentation), is an innovation and experimentation laboratory open to companies, local residents and students! The idea is to share creative strengths and skills to create the city of tomorrow.
Created in 2014 and backed by the Lyon Urban Data association, TUBÀ is located near Part-Dieu at 145 Cours Lafayette in the sixth arrondissement of Lyon. Housed in the unexpected premises of a former bank, TUBÀ is organized around five pillars:
The Lab'oratoire
An area for shared work and events, open to all and free of charge to encourage synergy among actors. The Lab'oratoire is open Monday to Friday, from 9 am to 6 pm (closes at 5 pm on Friday).
An outreach area
Conferences, round tables, workshops, exhibitions and interactive surveys are regularly organized within and outside of TUBÀ premises so that the general public can participate in innovative projects.
An experimental area
Led by social psychologists and volunteers, the experimental corner makes WiFi and materials available for designing and prototyping digital services.
Headquarters
TUBÀ welcomes young companies in residence, enabling them to rent meeting rooms and providing support. This is the site's innovation and technology transfer center, an idea bank built in the safe of the former bank and designed to make ideas flourish within TUBÀ!
A place for open innovation
TUBÀ collaborates with other innovation centers and promotes interaction between start-ups, small and large companies, laboratories and communities.
Hall H7
Opened in April 2019 in the Confluence district, H7 (french version only) promotes innovation and contacts among digital actors in Lyon Metropole, the second leading digital hub in France. H7 is a company and start-up incubator with an area for events and a street food center that is open to all.
Located just steps from a number of institutes of higher education (Catholic University of Lyon, ESMA 3D School, Digital Region Campus, etc.), H7 organizes activities for everyone, such as hackathons, lectures, workshops and cultural events. Feel free to visit this new activity center!
Who knew?
Located in a former nineteenth-century factory, H7 owes its name to the seven different activities carried out within its walls in the past. Known as the site for the Nuits Sonores music festival in Lyon since 2014, this hall was once a boiler works and a paintball emporium before it became a place that looks toward the future!