You are 21,000 foreign students to have chosen Lyon as their place to study! Welcome! Lyon Métropole greets you warmly and is ready to provide support for your new life as a student.
Info COVID-19
Despite the coronavirus pandemic, France is ready to welcome international students for 2020/2021 (see more on Campus France page). Find all information for students coming to Lyon in our dedicated news (french version only).
The French educational system
To understand how the French higher education system is organized, have a look at the following organization chart showing the various types of training programs that exist and the number of years they involve. To learn how to apply for enrollment in an establishment of higher learning in France, see the summary prepared by Campus France.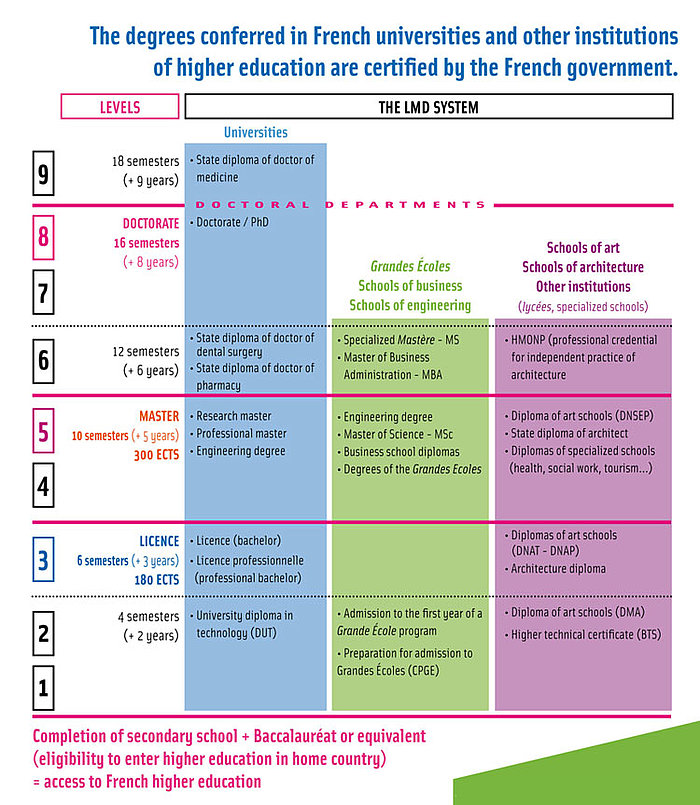 ECTS credits
You will earn ECTS credits with your studies. These credits validate education on the European level and encourage exchange between European countries. With ECTS credits, it will be easier to find an equivalent for your diplomas if you decide to work in another country. The validation of your year and your degree depends on obtaining a certain number of ECTS credits.
The Campus France portal
Campus France is a website designed for foreign students studying in France. On the site, you will find information on mandatory administrative formalities, applications to fill in and reports from former students who studied in France.
Campus France offices exist in a number of countries; find out whether a Campus France office is present in your country.
Entering your establishment
Each university has an International Relations department or an Office of Foreign Affairs. At the start of the school year, your establishment will give you the name of your administrative contact for all questions or issues that may arise during your academic stay in Lyon.
To welcome you properly, a number of universities and schools offer festive get-acquainted weeks for foreign students and/or students who work so that they can get to know the campus, campus services and the city.
The Students Welcome Desk at the start of the school year
The Students Welcome Desk is a one-stop welcome center for students that is open from September to the end of November at the University of Lyon. It will provide you with information on all you need to know for your academic stay on line at the telephone number 04 37 28 07 07.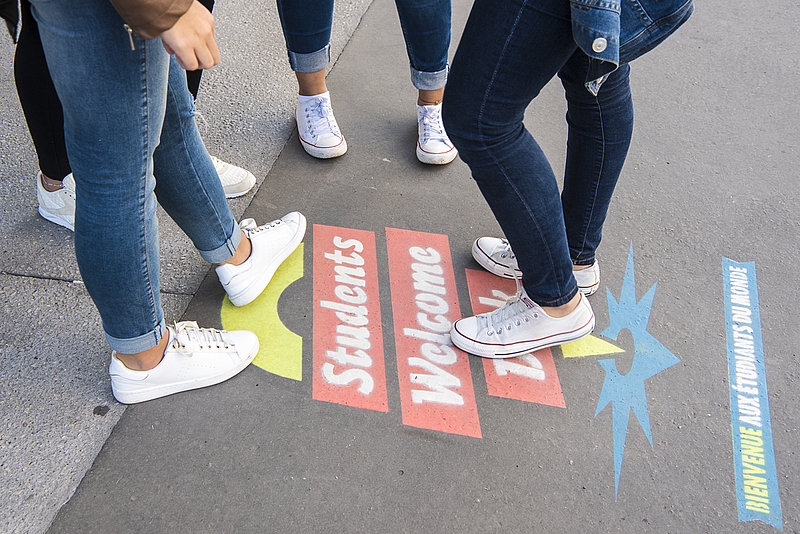 Visas, residence permits and official translations
Are you from an European Union country?
You do not need a visa or residence permit. Ask your establishment of higher education for information on the justification you will need for enrolling.
Are you from a non-European Union country?
Look for information on the Campus France website concerning available visas and how to apply for them. Find out which one is the most appropriate for you situation by filling in the information here. Next, make an online application on the French visa site.
For translating official documents such as your diplomas, the list below gives the certified centers in Lyon for making official translations.
Notarized translation agencies in Lyon in 2019 (PDF) (french)
Good to know
There is no automatic equivalence between foreign and French diplomas. When you apply for admission, you can request an equivalence that will evaluate the number of years of French higher education that correspond to your studies in your home country. Only the establishment of higher education to which you apply is qualified to determine the level of equivalence.
List of Lyon Metropole consulates
For assistance during your stay in the area, useful contacts, and the notarizing and delivery of official documents from your home country, the foreign consulates in Lyon Metropole are a useful contact. Consult the list of over 70 consulates in the metropolitan area to find the address of your home consulate and the person to contact.
Student associations to welcome you
A number of associations for foreign students are found in Lyon Metropole. They help you to meet other foreign students and discover the city and the surrounding area. The Erasmus Student Network and International Student Lyon associations, for example, enable you to visit Lyon and the surrounding region with Erasmus students of all nationalities. There are also community associations that bring together students of the same nationality to keep them linked to their country of origin. Find the complete list of associations (french only) in Lyon Metropole.
Learning French
To study in France, you need to be fluent in the language because most courses are given in French.
Your establishment may propose French courses that are free of charge. If this is not the case, you can take intensive French courses for a fee at any level and sign up for the following language tests: DELF, DALF, Specialized DU.
To choose your French course, the centers in Lyon teaching French as a foreign language have been awarded the FLE label from the Ministry of Foreign Affairs that attests to the quality of teaching. On the Lyon Metropole campus, you will find:

• Centre International d'Etudes Françaises (CIEF) [FLE]
Université Lumière - Lyon 2, 16 quai Claude Bernard - 69007 Lyon; Contact: cief(at)univ-lyon2.fr
Full year or semester courses, specialty courses, internships, preparation for the DELF/DALF diplomas, etc.

• L'Institut de Langue et de Culture Française (ILCF) [FLE]
Université Catholique de Lyon, 23 place Carnot, 69002 Lyon
Several types of programs designed for levels from beginner to bilingual are available: monthly or by semester, semi-intensive or intensive, intensive during the summer, etc.

Find the list of establishments with the FLE label on the map of certified centers. They offer intensive courses by quarter, semester or year, as well as evening and summer classes, and provide preparation for the DELF and DALF exams. Most of them also have a service for student housing, possibly with a host family, and propose cultural activities to facilitate integration.
Learn Online
Many smartphone apps enable you to practice a language free of charge (full programs are available for a fee). You can also learn with videos on specific topics, such as those on TV5 Monde.