A number of student offers will enable you to travel at bargain rates within Lyon and elsewhere.
TCL offers

Book of 10 tickets for students and under 26
Pay 15.10€ for book of 10 tickets for under 26 and students under 28, upon presentation of a student card if you are subject to an ID check.
Be careful! This -2.50€ student offer is only for 10 tickets purchased, this does not apply to tickets purchased by unit.

Per unit
Ticket: €1.90 • Ticket sold on a bus: €2.20
Two-hour "Liberté" ticket and evening ticket: €3.10 • One-day ticket: €6,20
Tip: if you make more than four trips per week, it's more economical to buy a monthly subscription.
Where can you buy TCL tickets ?
Tickets are sold per unit at one of the six TCL offices, at one of the 200 service points or from one of the 450 TCL dispensers in stations. You can also buy your tickets with you Android Smartphone on TCL E-Ticket app, or by SMS by sending "bus" at 93069 (1 SMS = 1 ticket valid for 1h on the bus network and €1.90 taken from your telephone bill).
"Étudiant campus" subscription
What: TCL proposes a 50% reduction for students and young travelers. The Étudiant Campus subscription is €32.50 per month (from the first to the last day of the month) or €325 per year (last two months are free of charge) in 2020.
Who: For 18-25 years old (upon presentation of your ID) and for students under 28, apprentices, professional contracts and civic service contracts.
How: You need a Técély card for any TCL subscriptions : it costs €5. To create your card, go to a TCL office with your ID card, a photo and student justification (student card, justification of school registration, etc.). The card must be renewed every five years, and you must confirm your student status each year. The Técély card can be recharged using a bank card at a TCL dispenser or using other means of payment at a service point. You can also recharge your Télécly card directly on the TCL online office.
Skip the line at TCL agencies!
Vélo'v offers
Vélo'v stations are located throughout metropolitan Lyon and allow you to rent a bike 24/7.
Journeys without subscription
You can use the self-service bicycles of the Métropole de Lyon without a subscription, for a single trip or for a day. oYu can buy it online or directly at a Vélo'v station kiosk equipped with a terminal of payment by bank card:
The Vélo'V Single Ride costs € 1.80 and allows you to make one ride with Vélo'v. The first 30 minutes of this ride are included in your plan. Beyond that, pay only what you consumme with per-minute billing. 1st payable half-hour : 0.05€/mn, 2nd payable half-hour: 0.10€/mn, then: 0.15€/mn Maximum billing : 35€/rental.
The Vélo'V Day Pass costs €4 and allows you take as many rides as you want throughout 24 hours. The first 30 minutes of each ride are included in your plan. Beyond that, the same per-minute billing applies.
Vélo'V 14-25 years annual membership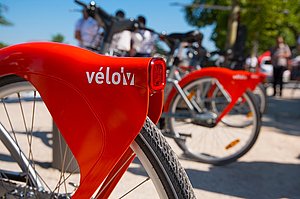 The Vélo'V 14-25 years annual membersip costs €16.5 and allows you take as many rides as you want throughout the year. The first 30 minutes of each ride are included in your plan. Beyond that, the same per-minute billing applies.
You can suscribe online and immediatly access the service on Velo'V website.
first 45 minutes free with your other transport subscriptions :
Holder of one of these cards: Técély, Oura, Bluely, Trabool? Beneficiary of the Vélo'v benefits for the LPA / CITIZ / QPARK / VINCI parking / EFFIA parking members? These are the first 45 minutes which are free (instead of 30 minutes)!
Regional and TGV Train offers
Regional trains under 26 subscriptions :
If you are a under 26 student or an apprentice, you benefit "TER Jeunes" rates. You can buy your subscription and order you "carte Oùra" online or in a train station.
With the TER Illico Liberté Jeunes subscription, priced at €15/year, you benefit from a 50% reduction for 1 year on all your journeys in Auvergne-Rhône-Alpes.

With the TER Illico Mensuel Jeunes subscription, you have reductions on all the TER network and you have 1 month of unlimited travel on the TER route of your choice in Auvergne-Rhône-Alpes or to Mâcon, Genève Cornavin (via Bellegarde only) and some bordering departments. This offer also exists for the week (7 consecutive days of unlimited travel) with the TER Illico hebdo Jeunes subscription.

With the combined TER + urban network subscription, you save up to - 20% reduction compared to the separate purchase of your transport subscriptions (regional trains and metro/bus/tram network for example), and you benefit from discounts and advantages on the regional trains network.

You are over 26 years old ? There are similar subscriptions ("Illico Liberté", "Illico Mensuel", "Illico Hebdo") at the standard rate.
TGV under 28 subscriptions :
Other local offers
Rhônexpress 12-25 offer (to the airport)
The RhôneExpress rapid tramway, which connects Lyon to Lyon-Saint Exupéry airport in 30 minutes, offers a 12-25 year-old rate of €13.60 (one way) and €24 (round trip). For over 25, the classic rate applies and reduced internet rates are available : more information on the Rhonexpress website. Tip: find in our "travel" section different ways to travel to Lyon-Saint Exupéry Airport .
Student prices for "cars du Rhône" (departemental coaches)
The departemental coaches "cars du Rhône" offer reduced prices for under 26 and students up to 27 years old, valid on their combined subscriptions and passes (annual, monthly, day) as well as on their 1-trip ticket.